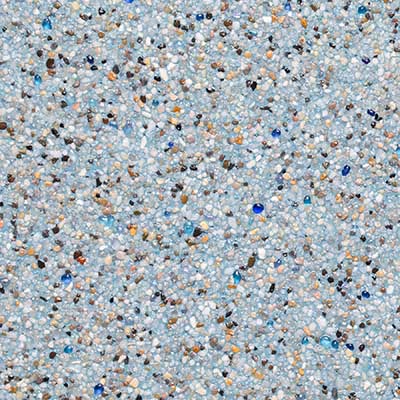 StoneScapes Puerto Rico Blend Large Aqua Blue is a pool finish that produces a mesmerizing medium blue water color. This unique blend is made with modified white Portland cement, tinted with a captivating aqua blue pigment. It showcases the natural beauty of black, gold, and white quartz pebble aggregates, along with a specialty combination of large glass bead aggregates. Immerse yourself in the allure of StoneScapes Puerto Rico Blend Large Aqua Blue and transform your pool into a stunning aquatic oasis.
| | |
| --- | --- |
| Brand | StoneScapes |
| Series | Puerto Rico Blend Large |
| Water Color | Dark Blue |
| Standard Limited Warranty | 10 Years |
| Approved Applicator Limited Warranty | Lifetime |
Let's Keep In Touch
Need a quick estimate or simply have a question? Fill out the form below and we will contact you shortly.